The garden fairies will be around soon!
Must venture into the fabric warehouse [much better to do when it is warmish out] and locate the tub of bear fabric.  This would not be to make bears out of, but has bears or woodland or mountains or forests on it.  Now that the first bound edition of "The Klondike Gold Rush, Bellybutton Bears in History" is complete, there is another project in the works.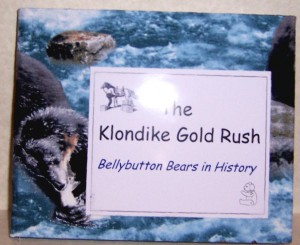 Well, of course!
If you are interested in the latest book, email bellybuttonbears@charter.net.  Others are displayed at http://www.bellybuttonbears.com/Stories.htm
Hoping to share some other projects soon, from all of us.  Oh, someone asked about the link for the homestead stories.  http://www.homesteadline.com/Publish/
These are real survival, a compilation of diaries and memories of the Stelting family.